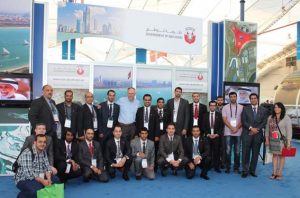 The Abu Dhabi delegation concluded its participation at the 2012 ESRI International User Conference organised recently by the Environmental Systems Research Institute (ESRI) in San Diego, California. The group attended the executives' symposium and the conference launch, joined the main exhibition and the special maps exhibition, and took part in workshops and training sessions aimed at improving competencies and technical capabilities across the growing geographic information systems (GIS) industry.
The Government of Abu Dhabi was warmly welcomed by other international delegations that reportedly admired and appreciated ongoing efforts to develop and provide IT-based government services to help transform the emirate into a leader in spatial data -based development in line with the Abu Dhabi Spatial Data Infrastructure (AD-SDI) programme.
The Abu Dhabi Systems & Information Centre (ADSIC) managed the preparation and coordination of the contributions of governmental bodies at the 2012 ESRI UC – the leading international GIS event.
The Abu Dhabi stand featured a presentation on the latest GIS applications and technologies used by government bodies, demonstrating their positive impact on performance and services. The section reportedly received an overwhelming response from the more than 15,000 visitors attending the event.
As announced in the conference, the upcoming "ESRI Middle East & North Africa User Conference" will be held in Abu Dhabi from December 11 to 13, 2012 and is expected to be the region's largest industry spotlight.
"Abu Dhabi's participation in this year's ESRI International User Conference complements its many broad achievements as a well-developed government particularly in terms of geospatial information and services," said H.E. Rashed Lahej Al Mansoori, director general, Abu Dhabi Systems & Information Centre.
"This reflects our ongoing march towards the integration of geospatial strategies and techniques with Abu Dhabi's development program. We look forward to sharing our plans, visions and leading expertise at the upcoming ESRI Middle East & North Africa User Conference in Abu Dhabi."
During the conference, the Statistics Centre Abu Dhabi (SCAD) was honoured by the Environmental Systems Research Institute for its exceptional use of GIS technology for the 2011 Abu Dhabi Census. The recognition is a culmination of the Centre's efforts to integrate geospatial information technology in the field of statistics.
The Abu Dhabi Education Council topped the mobile applications category of the competition on GIS-developed technical programmes held within the conference. The i-ADEC application developed by the Council garnered the highest percentage of votes from participants and visitors.