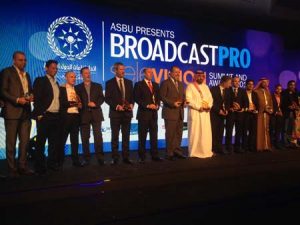 The 2015 edition of the ASBU BroadcastPro Selevision Awards concluded late Tuesday evening. The awards evening rewarded satellite and broadcast specialists from the MENA region.
The evening started with the SatellitePro ME awards. The first award of the evening was Satellite Operator of the Year which was given to Eutelsat. The second satellite award was for Outstanding Achievement in Satellite Services which had two winners – Yahlive and North Telecom.
BroadcastPro ME had 13 awards in creative and technical categories, as well as eight awards, by our title sponsor Selevision to recognise the contribution of some of the key industry players.
The broadcast award winners are:
Best MCN – Diwan Videos and UTURN
MENA OTT Trendsetter – beIN Sports Connect
Broadcast Project of the Year – OSN for its newly built network operations centre
Innovative production of the Year – Barajoun Entertainment for their upcoming release Bilal
Long-form Production of the Year – The Goldmine Films for Rabbi Zina Ilma
ASBU BroadcastPro ME 2015 Innovative Project Award – Amagi Media Labs.
MENA Broadcast Trendsetter – Al Jazeera Media Network
Best Telco/Broadcast Initiative – Du View
2015 MENA Systems Integrator – Tek Signals
Special Recognition Award – Al Rayyan TV
CTO of the Year – Mohamed Abuagla, Executive Director – CIO/CTO of the Technology and Operations Division at Al Jazeera Media Network