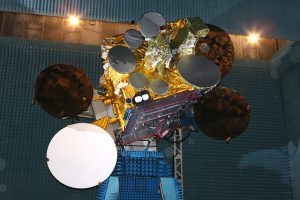 ATEME used TITAN live any-to-any for the live broadcast in 4K of 2014 French Open tennis tournament HEVC codec.
ATEME partnered with France Television, the French Tennis Federation (FFT) and Eutelsat to broadcast live, via satellite, the 2014 French Open event in Ultra High Definition (3840×2160).
The 2014 challenge was to be "ON AIR" with a live UHD channel at 50 frames per second from capture to encoding and broadcast for the two week duration of the tournament. Using HEVC, the latest video compression standard, the demonstration solidified ATEME's ability to ensure full interoperability of UHD delivery over satellite.
Michel Artieres, Founder, President and CEO, ATEME said: "ATEME is committed to the advancement and implementation of UHD and HEVC. By combining our technology with that of our partners, we are extremely proud to have successfully demonstrated a live end-to-end delivery chain at this prestigious two weeks event."
During the event, TITAN Live received live video feed from the event's UHD production via its 3G-SDI inputs, encoding with the HEVC codec and delivering a full single 4Kp50 stream below 30Mpbs. The feed was then uplinked on Eutelsat "EUT 5WA" satellite.
ATEME's long term relationships with TV set and set-top box manufacturers ensured interoperability on UHD HEVC decoders and 4K screens. Eutelsat's unencrypted "ON AIR" satellite UHD channel was received throughout Europe by latest generation UHDTVs with DVB-S2 input. The content was also displayed onsite in the tournament's "RG Lab" using Panasonic UHD TVs.
The event also provided ATEME with the opportunity to capture content via LiveSphere. This groundbreaking 360° video broadcast solution for live entertainment, sporting events and television shows provides an immersive experience for consumers on second screens and will be available to the industry in 2015.