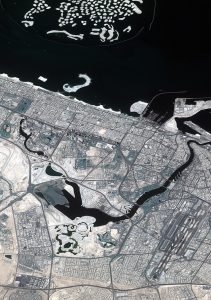 MBRSC celebrated the second anniversary of the launch of DubaiSat-2, the second earth observation satellite owned and operated by the Centre. On this occasion and to mark the anniversary, the satellite took several high resolution images of Dubai, which were then put together in one high quality mosaic image.
DubaiSat-2 was launched into space from Yasny Launch Base in Russia, using the Russian Dnepr rocket launcher in cooperation with the Russian International Space Company (Kozmotras). The satellite has been operating accurately and regularly for the second year in a row, capturing pictures of different parts of the world on a daily basis and as per demand. In the course of the last two years, DubaiSat-2 revolved 14 times around Earth, passing over Dubai five times in the process.
It also provides satellite imagery to various government agencies and private sector organizations, in addition to non-governmental institution inside and outside the country. To maximize the use and value of DubaiSat-2's high resolution image output, several satellite applications were created by MBRSC, for use in a number of development areas that serve the state and various sectors.