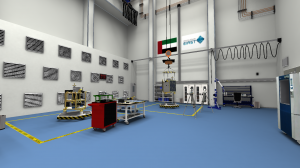 EIAST has announced that works entailing the construction of its primary facility for the manufacture of satellites were on schedule and expected to be completed in the next few months. The facility comprises a clean room for the manufacture of satellites, an electrical laboratory, as well as a mechanical lab.
With a total area of 210.25sqm, this primary facility is the first phase of a bigger development dedicated to manufacture satellites at the institution. The whole project is expected to be completed within two years.
Once completed and equipped, the last phase of KhalifaSat, which would require 18 months, will be completed at the primary facility, by Emirati engineers. The facility is designed according to the highest satellite manufacturing global standards and specifications. It is equipped with cooling and ventilation systems and is isolated from external factors such as dust and humidity.
"The construction work of facilities dedicated to manufacture satellites at EIAST are on schedule. Therefore, we will move as soon as possible from South Korea to Dubai to complete the development of KhalifaSat. In South Korea, we have a team of Emirati engineers working on completing the first phase of the project in collaboration with Satrec Initiative, which is providing technical advice when necessary", said Yousuf Hamad Al Shaibani, Director General of EIAST.
"Within a very short period of time, we have made a lot of achievements such as the successful launch of DubaiSat-1 and DubaiSat-2 into space in addition to the launch of KhalifaSat project. Today, we are building facilities for the manufacture of satellites in the country, which is a real experiment for us and a big challenge for our ability to develop high level infrastructure for space sciences, to develop local human resources and enhance their technical innovation" , he added.
"We look forward to many more achievements to come in order to improve social and economic development in the UAE while realizing the vision of H.H. Sheikh Mohammed bin Rashed Al Maktoum, UAE Vice President, Prime Minister and Ruler of Dubai", he concluded.