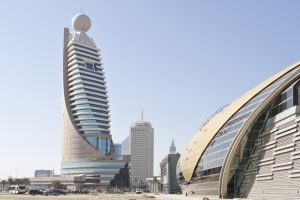 Etisalat is offering its business mobile post-paid customers a service to share a single data plan across multiple devices including smartphones, tablets and laptops.
Today's growing business environment demands more connectivity options. The new Etisalat's Business Multi Share service offers customers the advantage of connecting up to five simultaneous SIMs under one data plan without the hassle of subscribing to additional data packs.
With this, business owners can maximise their multitasking capabilities by using Etisalat's new cost-saving, single data pack across devices, taking full advantage of the regions' largest and fastest 4G LTE network. Business Multi Share data packs start from just AED60 for 1GB data allowances per month. In addition, customers have the option of buying smartphones or tablets at zero upfront charges with Etisalat's business post-paid plans to use this multi-data access facility optimally.
Commenting on the launch of Business Multi Share service, Salvador Anglada, Chief Business Office, Etisalat said, "Staying well connected is paramount with rising demands of our highly urban fast-paced lives. It is more so in a business environment, where users need to work across multiple devices in the office, on the move or at home. On an average, a customer today uses three devices to connect to the Internet, the smartphone being the most preferred one; and this trend is only going to grow."
John Lincoln, Senior Vice President – Small and Medium Businesses (SMB), Etisalat added, "The new Business Multi Share service is part of our commitment to help customers grow their businesses. We have developed these data packs in response to the inherent needs of knowledge workers. Effective multitasking, collaboration and productivity are key for today's busy business executives. Our cost effective, powerful proposition lets SMBs minimize budget spends by allowing staff members to share data from a single plan. It also empowers their workforce, for example, sales teams who need to be seamlessly connected at all times."
Existing customers subscribed to Etisalat's Business Ultimate or Business Supreme services can simply register for the Business Multi Share data pack by just sending an SMS – MULTI – to 1040. New customers can subscribe to Business Ultimate or Business Supreme post-paid plans and choose from one of the new Business Multi Share data packs starting from AED60 for 1GB and up to AED219 for 12GB data allowances per month.
The Business Multi Share data packs align with Etisalat's strategy of offering value-for-money propositions to its business customers. Etisalat's 4G LTE network covers nearly 90 per cent of the inhabited area of the country and allows users of 4G LTE mobile devices to connect to the Internet at speeds of up to 150 Mbps.
The new Business Multi Share data pack and business post-paid services are available through Etisalat's account managers, channel partners, business centres or contact Etisalat's dedicated SMB call centre at 800 5800.