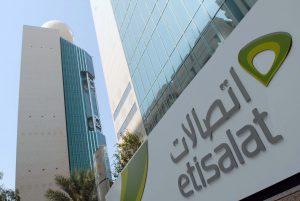 Etisalat launched its 4G LTE and eLife services over VSAT technology, at the IBC Content Everywhere MENA event, organised by IBC, in Dubai.
Etisalat is the first operator to launch 4G LTE and triple play services (eLife) via VSAT in the Middle East region. It will allow customers in remote, desert and off shore areas to enjoy high-speed data and watch eLife channels over VSAT technology.
Commenting on the launch, Tareq Abdulla AlKharji, Senior Vice President Data Centers and Cloud Solution at Etisalat, said, "VSAT technology provides a powerful and secure connectivity solution for companies that work in remote areas. Etisalat has more than two decades of experience in providing advanced solutions for a wide range of customers, from major oil companies to governmental entities. At the IBC Content Everywhere MENA, Etisalat takes great pleasure in announcing another first in the Middle East by launching 4G LTE and eLife services via the VSAT technology. It falls in line with our commitment to offer high speed broadband connectivity and entertainment experiences to our customers in remote areas, be it in the desert or the sea."
IBC Content Everywhere MENA is the second of the event series "IBC Content Everywhere" which has been launched first in Europe by IBC last September 2014 to reflect the very different nature of media connectivity in an IP world.