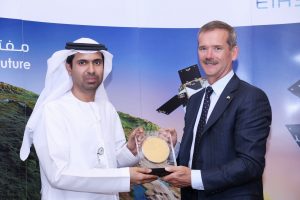 Canadian astronaut and former commander of the International Space Station, Chris Hadfield, visited the Emirates Institution for Advanced Science and Technology (EIAST), and met with a group of executives headed by H.E. Yousuf Al Shaibani, Director General of EIAST.
During the visit, the parties discussed several aspects of space science and Hadfield explored the successful achievements of EIAST in manufacturing satellites. He was also briefed on the progress made by the institution through technical innovation, scientific research and EIAST strategy aiming at empowering Emiratis in outer space scientific techniques and applications by transferring knowledge and exploiting technical skills in order for the UAE to be on par with the world's leading countries in the space industry.
Commenting on the visit, H.E. Yousuf Al Shaibani, Director General of EIAST said: "EIAST always seeks to encourage scientific and technical excellence in the UAE, modernizing the infrastructure and empowering highly-skilled Emiratis to manufacture high quality satellites and develop space programs."
"The Emirates has the potential and human capacity to excel in the satellites and space science sector. The successful achievements made in the last few years prove it. Accordingly, we are continuing to build on strong foundations to guarantee the sustainability of the sector in line with our ambitious objectives and in order to achieve the overall development in the country", he added.