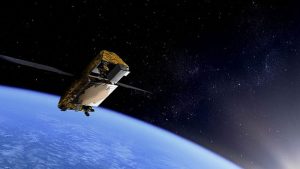 Iridium Communications has announced it has completed the first satellite payload-to-bus integration on an Iridium NEXT satellite. This successful mating of the communication payload and the Aireon hosted payload to the platform is yet another critical milestone achieved in the production process, bringing the overall constellation one step closer to launch.
Each of the 66 satellites planned for use in the Iridium NEXT constellation is being built at the Orbital facility in Gilbert, Arizona, in addition to a number of in-orbit and ground spares. This satellite will be shipped to the Thales Alenia Space facility in Cannes, France where it will undergo qualification testing to ensure robustness of design. All Iridium NEXT satellites will include the Aireon hosted payload, which will enable the first truly global aircraft tracking and surveillance capability, extending ADS-B coverage and benefits to every flight path across the planet.
"This milestone moves us forward toward full completion and testing of a fully integrated satellite, and we're very excited," said Scott Smith, Chief Operating Officer, Iridium Communications Inc. "The assembly line is working well, and we're on track with production timing. We are full speed ahead with the build, and that much closer to our first launch scheduled for later this year."
The program is progressing in all areas of production and testing, and Iridium expects to announce multiple milestones in the near future including completion of the first flight dispenser for the SpaceX launch; full-power antenna testing; cross-links testing; mating the payload fairing to the space head module for the initial satellite launch; and Aireon testing and systems update, among others.
The Iridium NEXT constellation is scheduled to begin launching in 2015 and to be completed in late 2017. When fully operational, Iridium NEXT will offer greater bandwidth and data speeds, dramatically enhancing Iridium's ability to meet the rapidly-expanding demand for truly global mobile communications on land, at sea and in the skies.
Iridium NEXT will also serve as a platform for the company's Iridium PRIME offering, a turnkey solution for hosted payloads which will offer all elements of a successful hosted payload mission, at an estimated cost savings of 50 percent or more compared to current standalone solutions. In addition, the Iridium NEXT network will enable the recently announced Iridium Certus broadband service, which will deliver versatile, enterprise-grade, reliable communications and support a portfolio of partner products with a broad range of data speeds eventually as high as 1.4 megabits per second for a single user terminal.