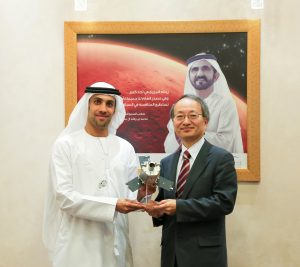 The Ambassador of Japan to the United Arab Emirates, H.E. Kanji Fujiki, visited the Mohammed Bin Rashid Space Centre (MBRSC) where he met a number of executive officials, most notably, Salem Humaid Al Marri, Assistant Director General for Scientific and Technical Affairs at MBRSC. The two parties discussed ways to enhance their bilateral relations in the field of space science, technology and research. During the visit, H.E was briefed on the Centre's projects, namely the Emirates Mars Mission -Hope Probe, KhalifaSat, DubaiSat-2 and DubaiSat-1 among others.
H.E. Kanji Fujiki also inspected the primary facility for manufacturing satellites and laboratories at the centre, in addition to the ground station from which operations of the two satellites, DubaiSat-2 and DubaiSat-1 are run.
Al Marri stressed on maintaining strong relations between Japan and the United Arab Emirates, specifically in the space field, praising Japan's abounding achievements and innovations in the space sector.
"We have had rewarding collaborations with Japanese authorities in the past  and companies that specialize in space science, most notably the Japan Aerospace Exploration Agency (JAXA), following the launch of DubaiSat-2 into space. The satellite contained an electric propulsion system developed in collaboration with JAXA, and currently one of Japan's leading companies has been tasked with the launch of KhalifaSat. Our joint ventures are proof of our confidence in Japan's capabilities, expertise and leading role in space technology across the globe. We hope to continue expanding the horizons of our cooperation in the future, especially now that the United Arab Emirates is involved in the exploration of outer space," he said.