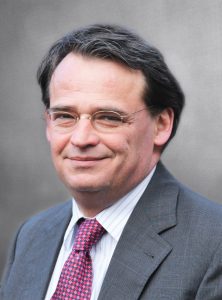 LeoSat Enterprises has announced the appointment of Diederik Kelder as Senior Vice President, Corporate and Business Development.  In this role, Diederik will be responsible for all business development activities at LeoSat.
Diederik Kelder has over 20 years' experience in the satellite communications industry, which includes working for a number of the most prominent satellite operators in the areas of strategic planning, commercial planning and business development.  Prior to joining LeoSat Enterprises, Diederik worked at SES, where as Vice President Business Development Asia he led a series of initiatives including partnerships and space and ground asset development.  In addition, Kelder has previous experience of working for a new satellite start up.  As VP Business Planning, he set up and rolled out New Skies Satellites' strategy, business planning and revenue forecasting functions and was a core team member on a variety of corporate transactions including IPO and acquisition by private equity firm Blackstone.
A native of the Netherlands, Diederik began his satellite communications career at Eutelsat, one of the worlds leading satellite operators, holding the position of Marketing Manager in the then newly created Commercial Department.  He holds a Masters degree in Physics from Utrecht University in The Netherlands as well as a Diploma in General Management from INSEAD in Paris.   
LeoSat's CEO, Mark Rigolle, said: "Diederik is a very experienced satellite industry executive across a number of fields that are extremely relevant for a young company like LeoSat. He has a deep understanding of developing strategic and market opportunities.  As we build our core team, he will be instrumental in formulating the technical and commercial advantages of the LeoSat constellation to potential strategic stakeholders and the business market. "
Diederik commented: "What attracted me to LeoSat is that it was conceived from a customer need perspective. What really excites me is that we use the best satellite technology has on offer to, not only carry large data volumes premise-to-premise, but in many scenarios do so with lower latencies than terrestrial solutions; simply because light travels faster through space than through fiber. I am looking forward to working with Mark and the LeoSat team, our customers and partners to bring this to market."
When fully operational, LeoSat will provide point-to-point data connections to and from anywhere on earth without the need for any terrestrial landings or transport.  The data will be able to travel in its native form while encrypted and secured from end to end.  LeoSat has completed a feasibility study with Thales Alenia Space for its constellation design and deployment and is currently working with them on the next phase of development.