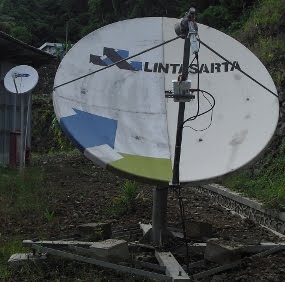 VT iDirect, Inc. (iDirect), a company of VT Systems, Inc. (VT Systems), announced that PT Aplikanusa Lintasarta (Lintasarta), a provider of business information and communications solutions in Indonesia, has enhanced its satellite-based network services with iDirect's Evolution platform.
With more than 10,000 VSAT networks for a variety of industries, including government, telecommunications, finance, and manufacturing, Lintasarta reportedly needed an additional VSAT platform that offers it flexibility to meet the demands of its growing customer base while supporting a wide range of applications. The platform also had to reportedly be efficient for large-scale networks and support critical enterprise applications reliably when needed most.
The efficiency gains from Evolution's built-in DVB-S2/ACM technology enable, the company claims, Lintasarta to offer high-quality services at a lower cost to customers while iDirect's Group Quality of Service (GQoS) bandwidth allocation algorithm offers the flexibility to control quality of service levels, bandwidth management, and traffic prioritisation. Furthermore, by implementing iDirect's Evolution technology, Lintasarta has reportedly maximised its space segment efficiency, enhancing its service portfolio for existing customers and giving the company room to expand into new markets beyond Indonesia.
"We are constantly looking to innovate and offer cutting-edge technologies for our customers to help them achieve their business goals. Having iDirect as part of our technology portfolio gives us greater flexibility in the types of services we can offer, which is essential for our diverse customer base. The iDirect Evolution platform significantly improves the efficiency of our services, helping our clients lower their operating costs and, at the same time, increase business opportunities," stated Samsriyono Nugroho, president director, Lintasarta
"We are proud to have been selected by Lintasarta, one of Asia's largest VSAT operators, for its new network. The Evolution Platform is an important investment for large service providers looking to maximize efficiency and cost-savings while maintaining a competitive edge for customers. As iDirect continues to launch innovative technologies, Lintasarta will be able to grow with our Platform and expand its footprint into new markets," stated Goh Wai Pheng, general manager, iDirect Asia