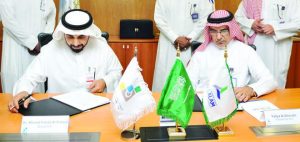 The Technical and Vocational Training Corp. (TVTC) has signed a MoU with ALSALAM aerospace industry to train 500 young Saudi high school graduates for manufacturing and repairing programmes.
The MoU is part of the group's need to strengthen the partnership with various government and private sectors to develop skills for young Saudis in the technical field.
The organisation will work with ALSALAM to provide specialised training programmes in technical fields that needed to run the company's projects.
The trainees will join the programmes in around 16 global technical colleges of TVTC for young men to acquire basic technical skills required for aerospace technical work, and to learn English. This will continue for a year.
The jobs at ALSALAM are suited for the need for qualified Saudi youths to handle technical problems of aircraft.  Through this training youth will qualify in aerospace technical and vocational training and will have suitable jobs in the sector.