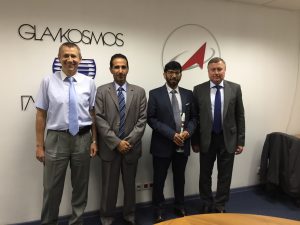 An official delegation from the UAE Space Agency participated in the MAKS 2015 aviation and space exhibition in the Russian capital Moscow, with the aim of developing relations with the Russian delegation as well as communicating the UAE Agency's plans, programmes and initiatives.
The UAE delegation. led by H.E. Dr. Khalifa Al Rumaithi, Chairman of the UAE Space Agency, H.E. Dr. Mohamed Nasser Al Ahbabi, the Director-General, and a number of senior officials from the Agency, met with representatives from key organizations, companies and institutions dedicated to space technology, including the Federal Russian Space Agency, ROSCOSMOS.
The Moscow exhibition, which took place from 25 to 30 August, is widely considered to be one of the most important events for launching and displaying the latest innovations and projects dedicated to military, space, defence and aerospace manufacturing and production.
H.E. Dr. Al Ahbabi explained that participating in the MAKS event is important for knowledge transfer and exchange of ideas on a global level, as well as having the opportunity to build relations for cooperation between the two nations and to position the UAE at the forefront of space exploration.
The UAE delegation were given a tour of the exhibition where they witnessed the latest Russian projects and initiatives within the space and satellite sector.
The Russian delegation praised the efforts of the UAE in establishing a Space Agency and for the launch of the Mars probe mission. The delegation expressed a  desire for joint cooperation and coordination in future space projects.
The UAE delegation met with representatives of the Russian Space Agency at a workshop, where the UAE Space Agency presented a detailed outline of its space sector strategy in the UAE, its objectives, initiatives, programs and priorities. The Agency also outlined its educational programs, launched in cooperation with a number of universities and specialized institutions.
The visit to the MAKS exhibition, along with the Agency's participation in the 2015 Paris Air Show, forms part of the Agency's strategic objectives announced in May of this year.
This event is the second stop for the UAE Space Agency this week, following a visit to Belarus to help develop governmental and industrial relations within the space sector.