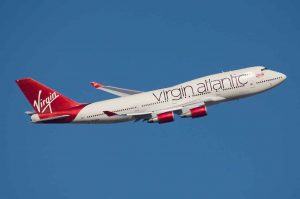 Virgin Atlantic has partnered with Gogo, an aero communications service provider, to offer in-flight connectivity services on its existing fleet of aircraft.
"Virgin Atlantic is on the cutting edge when it comes to delivering technology solutions to their passengers and we're extremely excited to deliver the best connectivity solutions to keep their passengers connected anywhere they fly around the world," said Michael Small, Gogo's president and CEO. "Virgin Atlantic's relationship with Delta Air Lines will also allow us to build a seamless experience for passengers who fly both airlines."
Gogo and Virgin Atlantic have agreed on principal terms and are currently working to finalise a definitive agreement. Under the agreement, all of Virgin Atlantic's existing aircraft will be retrofitted with Gogo's 2Ku solution.
Reuben Arnold, Brand and Customer Engagement Director at Virgin Atlantic said: "We're always looking at ways to enhance the on board experience for our customers and expanding in-flight connectivity across our fleet is just one of the ways in which we are doing this. We were impressed with Gogo's connectivity solution and look forward to all of our customers being able to enjoy this service whilst they fly."