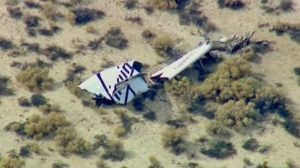 Virgin Galactic's partner Scaled Composites conducted a powered test flight of SpaceShipTwo on October 31. During the test, the vehicle suffered a serious anomaly resulting in the loss of the vehicle and the death of one of the pilots.
In a press statement released by Virgin Galactic, George Whitesides, CEO of the company said:
"Our primary thoughts at this moment are with the crew and family, and we're doing everything we can for them now. I'd like to recognise the work of the first responders who we work with in the Antelope Valley for their efforts on behalf of the team. We're also thinking of the team members that we have at the companies that have been working on this programme.
"Space is hard and today was a tough day… The future rests in many ways on hard days like this, but we believe we owe it to the team, that has been working so hard on this endeavour, to understand this and to move forward."