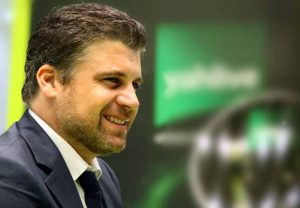 Yahlive is growing its regionally-focused platform with the addition of the BBC World Service television channels, BBC Persian and BBC Arabic, from October 2014. The channels will further drive success into 2015, following growth of 140% in terms of channels over the past year, benefiting from the Eastern Beam's strategic focus as a regional hotspot for Farsi speaking audiences.
With over 110 channels in HD and SD already broadcasting on Yahlive in Farsi, Arabic, English, Afghani and Kurdish languages, BBC Persian and BBC Arabic are joining the stable of in-demand content on the free-to-air (FTA) from October 2014.  Yahlive is also adding radio programming from BBC Arabic and from the BBC's Afghan service – with a mixture of Pashto, Dari and Farsi programming.
Through offering customised TV packages for a culturally diverse audience, Yahlive is quickly gaining geographical and viewer traction, particularly across the priority East beam region of the Levant, GCC and South West Asia.
Sami Boustany, CEO of Yahlive, said: "We look forward to having BBC Persian and BBC Arabic on board, as part of Yahlive's fast growing satellite platform. Over the past year, we have seen exceptional popularity for our East Beam service, as a focus for regional high quality Farsi content, as we commit to meeting the needs of regional audiences. We continue to select channel partners based on the quality of their programming and offering a selective choice of premium television channels to our diverse and culturally rich viewers across the region, and look forward to seeing the new channels drive further growth."
Behrouz Afagh, Head of Journalism for BBC World Service in the Near East, West & Central Asia said: "Audiences for BBC Arabic and BBC Persian have doubled over the last five years across all platforms.  We're delighted that Yahlive will feature our channels, allowing even more viewers and listeners to enjoy the wide range of news, business, sport and documentary programming on the BBC World Service."