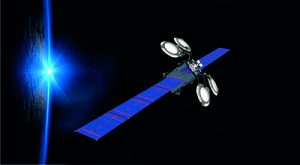 At IBC2015 ABS will be showing off its latest satellite, ABS 3A – positioned at 3-degrees West, which will go into service in September.
ABS operates six satellites (ABS-2, ABS-3, ABS-3A, ABS-4, ABS-6 & ABS-7), covering over 80% of the world's population, providing tailored services to customers across Europe, Africa, the Middle East, Asia Pacific, CIS, Russia and the Americas.
ABS-3A is based on the new all-electric propulsion satellite 702SP design. It will be co-located at 3°W connecting the Europe, the Middle East, Africa and the Americas. The aim of the satellite is to will extend C and Ku-band coverage into the Atlantic Ocean region, with high performance C and Ku coverage will provide inter-regional and trans-Atlantic connectivity and services. The satellite will also support VSAT services, TV distribution, IP trunking, cellular backhaul and maritime services.
There are also two new Boeing 702SP satellites (ABS-2A and ABS-8) which are scheduled for launch in late 2015 and 2017 respectively.
Headquartered in Bermuda, ABS has offices in the United States, UAE, South Africa, the Philippines, Indonesia, and Hong Kong. ABS is majority owned by funds managed by Permira.