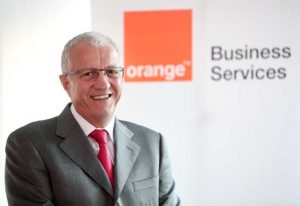 In conversation with recently appointed Jean-Luc Lasnier, General Manager, Middle East & Africa, Orange Business Services, on his goals for the MENA region.
 "We do sometimes face regulatory issues in the region and they are addressed by adopting a country-specific approach. Sometimes the solution is to work with the national operator, as we do in the UAE with Etisalat"
Your mandate is to work in strategic markets, including the United Arab Emirates (UAE) and Saudi Arabia in the Gulf Cooperation Council (GCC), alongside Morocco, Sub Saharan Africa and Turkey in the wider region. The key sectors for Orange in the MEA reportedly include banking and finance, oil and gas and smart cities. Will satellite solutions be playing a role in your operations in the region?
We have a fully integrated terrestrial and satellite network. Orange Business Services has a long history in the Middle East and Africa and has operated networks in the region for more than 50 years. Our regional network footprint includes 138 points of presence (PoPs), including 31 countries with terrestrial IP VPN access nodes and 23 countries with satellite IP VPN access nodes.
Our satellite solution is one of the access technologies to the IP VPN network that Orange Business Services is using. In particular, for hard-to-reach areas, satellite solutions play a pivotal role. Typical customers in the region can be found in the oil and gas sector and at production facilities of multinationals. In addition, our government customers are using satellite for greater diversity of connectivity and for independence from local infrastructure. VSAT still plays a big role within the region relating to both primary and secondary connectivity. We are noting customer demand to move access services to low latency terrestrial services but still have some inevitable dependency on VSAT for backup as well as to reach the remote locations.
You have stated that the Middle East business has produced very strong results over the last 18 months. What, in your view, has driven these strong results?
We have been operating in the Middle East for more than 50 years with around 500 MNC customers, and 2,000 staff in the B2B operations across the MEA region. We had 10 new customers in 2011. For 2012, network connectivity and increasingly managed services, cloud-based services through our own cloud VPN, and smart cities, are key areas for us. To this, I would add the fact that we are moving even closer to our customers, illustrated by the new local company we launched in Saudi Arabia in 2012.
Where have you deployed satellite-based solutions across the region and do you face challenges, regulations-wise, operating on a pan-Arab basis?
Orange Business Services has deployed more than 1,200 satellite-based solutions now operational in MEA region. As an example, some major credit card companies are using our satellite solutions as backup. Multinationals are using satellite to increase availability for running their mission critical applications as are humanitarian and aid organisations simply because their operations and presence tends to be in harsh environments and remote, isolated areas. Indeed, we do sometimes face regulatory issues in the region and they are addressed adopting a country-specific approach.
Sometimes the solution is to work with the national operator, as we do in the UAE with Etisalat. At other times we have to fulfill country-specific requirements and conditions that requires the use of an in country located teleport.
Orange has worked with the Belgian Ministry of Foreign Affairs (MoFA). Will this be an area for expansion in the region?
Orange is serving multiple European-based MoFAs in the region both on terrestrial and satellite infrastructure. It is not easy for a Ministry of Foreign Affairs (MoFA) to maintain stability and reliability at all times, even in very hard-to- reach locations. They have to cope with unpredictable events, political or natural disasters. They have a mixture of permanent and temporary staff and a wide variety of different applications. They also need to collaborate with many parties, both internal to the organisation and external.
Orange Business Services delivered the Belgian MoFA a fully managed IP VPN using a mix of terrestrial and satellite links, WAN optimised (voice, data, video) and converged network with secure back-up, ITIL-based 24×7 trilingual service desk whilst meeting Belgium Public Contract law and NATO/EU regulations.
The deployment was very complex and involved many challenging environments and yet was completed in just six months. The single, global network delivers reduced costs and total cost of ownership and increased operational efficiency.