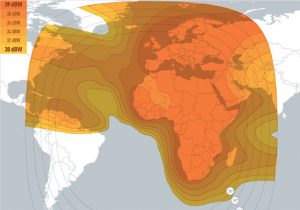 STN has begun playout and distribution services for iROKO's Nollywood entertainment channels via Eutelsat 5WA satellite with wide beam coverage over Africa.
iROKO Play and iROKO PLUS are newly-launched linear TV channels from Africa's leading Nollywood distributor, iROKOtv. The channels are now available to viewers over DTT (direct to terrestrial television) all over Africa.
STN performs fully redundant playout services, with advanced graphics and scheduling options for both channels. Management and staff from both companies were communicating live at the time of launch.
"It's all part of the STN's professional & personal touch and it was our pleasure to be part of the first phase of iROKO's new content distribution strategy", said Janja Lovsin, Operations Manager.
"We had to chose between different operators mainly located in Paris, but STN offered the best package in terms of cost, infrastructure and technical capabilities," said Cedric Pierre-Louis, VP Linear TV at iROKO. "We have experienced their professionalism and strong customer assistance, which, so far, confirmed that we have picked the right partner."
Nollywood is the world's second largest movie industry in terms of output, making roughly 40 films per week, at an average cost of $40,000 per project. It is a global, cultural phenomenon, adored by millions in Nigeria, in Africa and across the diaspora.